Learn More About Programs At Victory Kid Sports, Click On Learn More
Camp Victory Spring Camp
2024 Coming Soon
Become a Junior Coach or CIT
5th through 9th graders
@ Camp Victory Summer Explosion
**NEW**
Take a Virtual Tour at a
Camp Victory Site
Attention Enrolled Campers
Sign up for Project Launch
(Tour, drop off medication, meet staff, etc.)
Become A Coach Or
Supervisor At A Camp Victory Site

WE ARE HIRING =)
Meet the Camp Victory Leadership Team

Stay Tuned, Next Scholar Program Launches Fall 2023
School Day Off Care - 2023 School Year
Summer 2023 Newsletter for Current Camp Victory Families
Camp Victory Highlight Video
Camp Victory Spring Camp, 2024
victorykidsports.campmanagement.com/enroll
Viewbook 2023
2024 Coming Soon
Victory is excited to offer virtual tours of our Camp Victory Site.  Take a tour in the comfort of your own home!  
Victory will offer Open House Days for registered families at all of our sites, a few days before camp begins.  You will get an invite to take a physical tour, drop off medication, and meet camp leadership and coaches.
Camp Victory Merritt Island
Camp Victory West Melbourne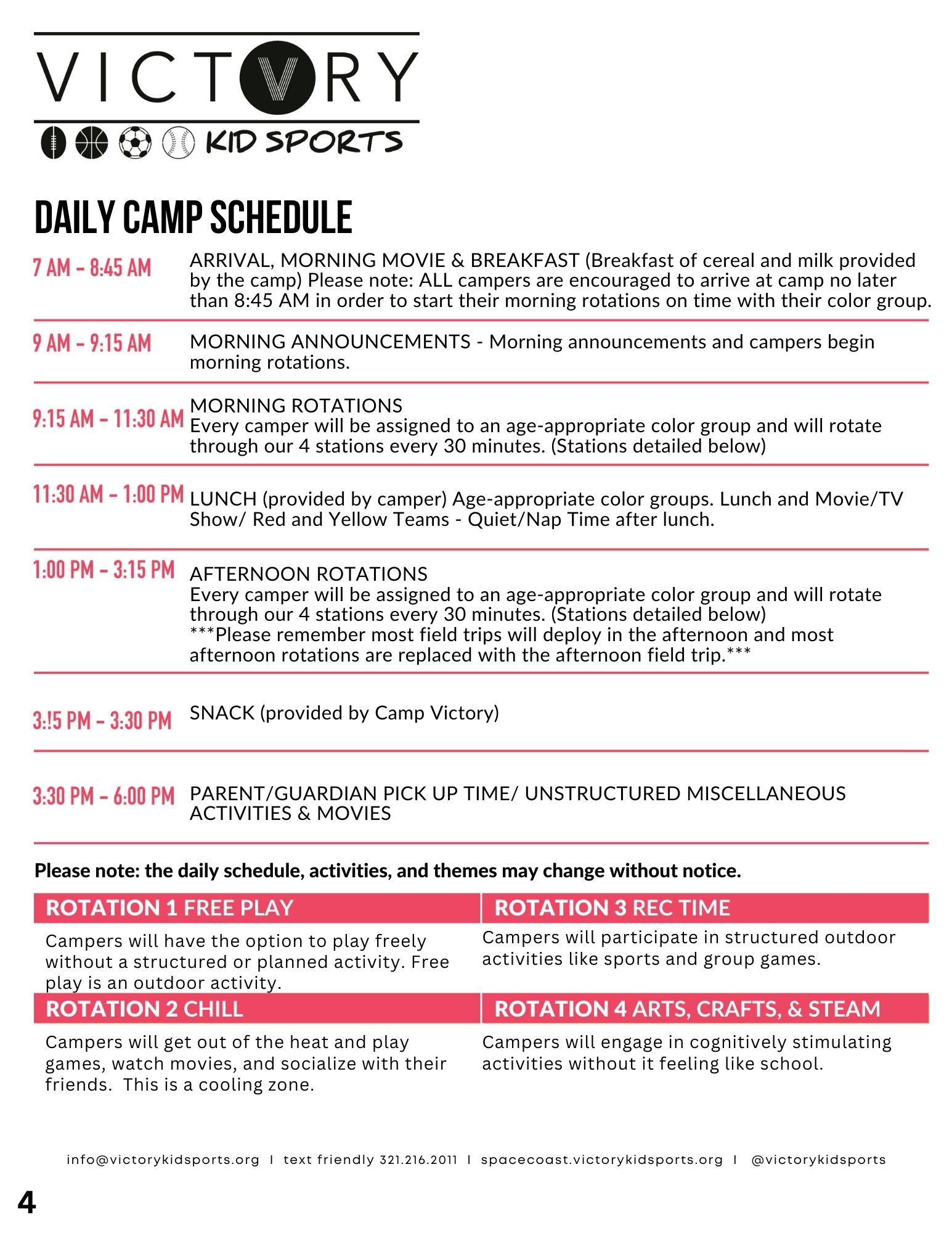 LEARN MORE ABOUT THE
VICTORY SCHOLAR PROGRAM
A PROGRAM DESIGNED FOR HIGHLY MOTIVATED MIDDLE AND HIGH SCHOOL STUDENTS WHO ARE SUPER BUSY….
Mission & Vision
Impact 7th-10th graders through the avenue of mentorship, college readiness activities, goal setting, and career assessment in small and large group settings. 
The Victory Scholar program offers summer employment to scholars and volunteer opportunities.  The goal is to develop leaders that become productive college students.  
PERKS OF THE PROGRAM:
FREE!
SMALL GROUP SETTING WITH LIKE MINDED STUDENTS
STUDENT MAKEUP…ATHLETES, FINE ARTS, CREATIVES
VISITS FROM LOCAL PROFESSIONALS
AND MUCH, MUCH, MORE.. APPLY TODAY!!
It's NEVER too early to start planning for your future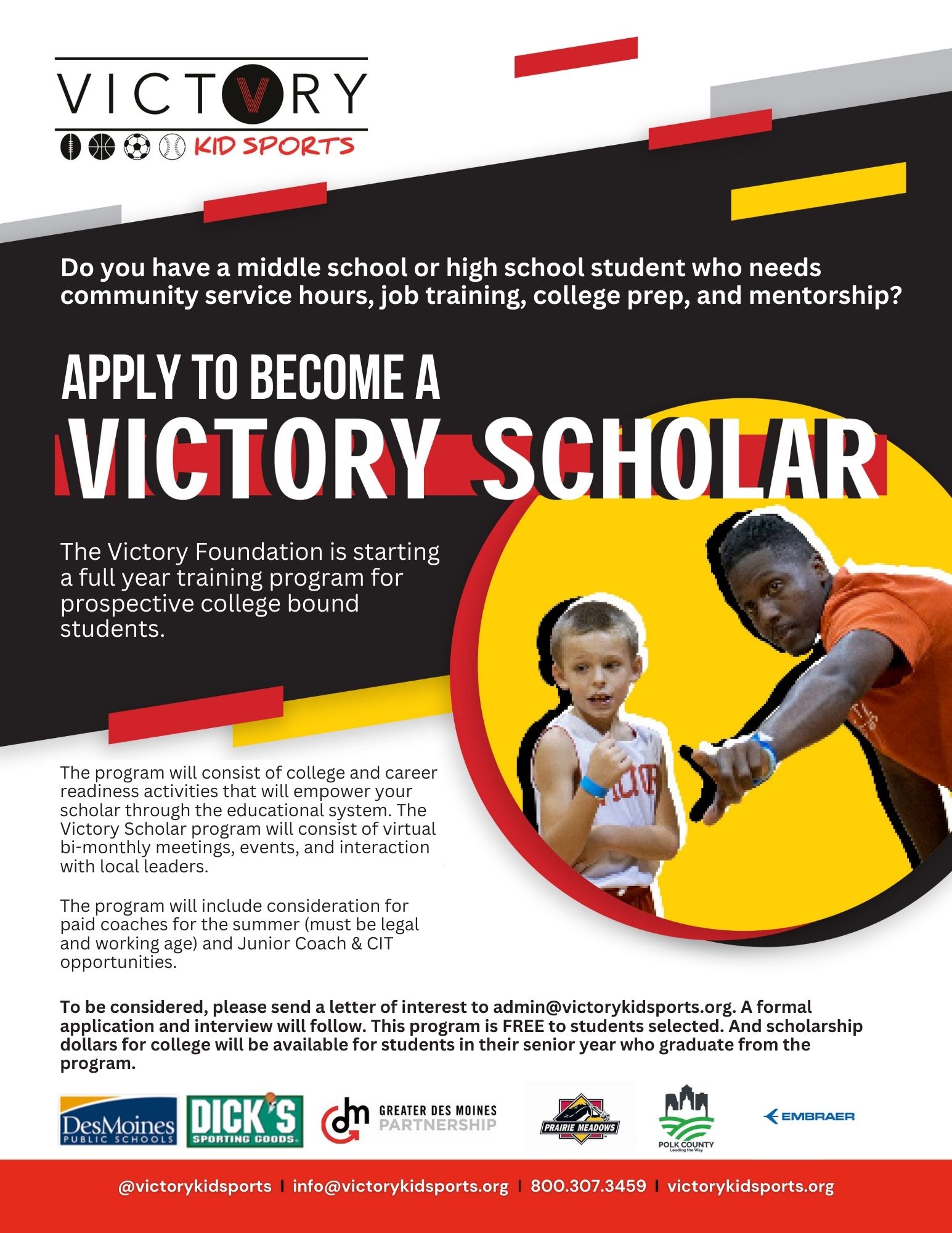 2022/2023 SCHOLAR INTERNS
Spring 2024 Newsletter
for Current Camp Victory Families
Coming Soon
Become a Junior Coach or CIT @ a Camp Victory Site
Junior Coaches and CIT's assist experienced coaches, they wear coach shirts, use a whistle, and they may be in the car loop on a walkie calling down campers.  They are coaches in training, they go to staff meetings, fill out an application, and are held accountable.  And some of them even transition to staff coaches once they are eligible.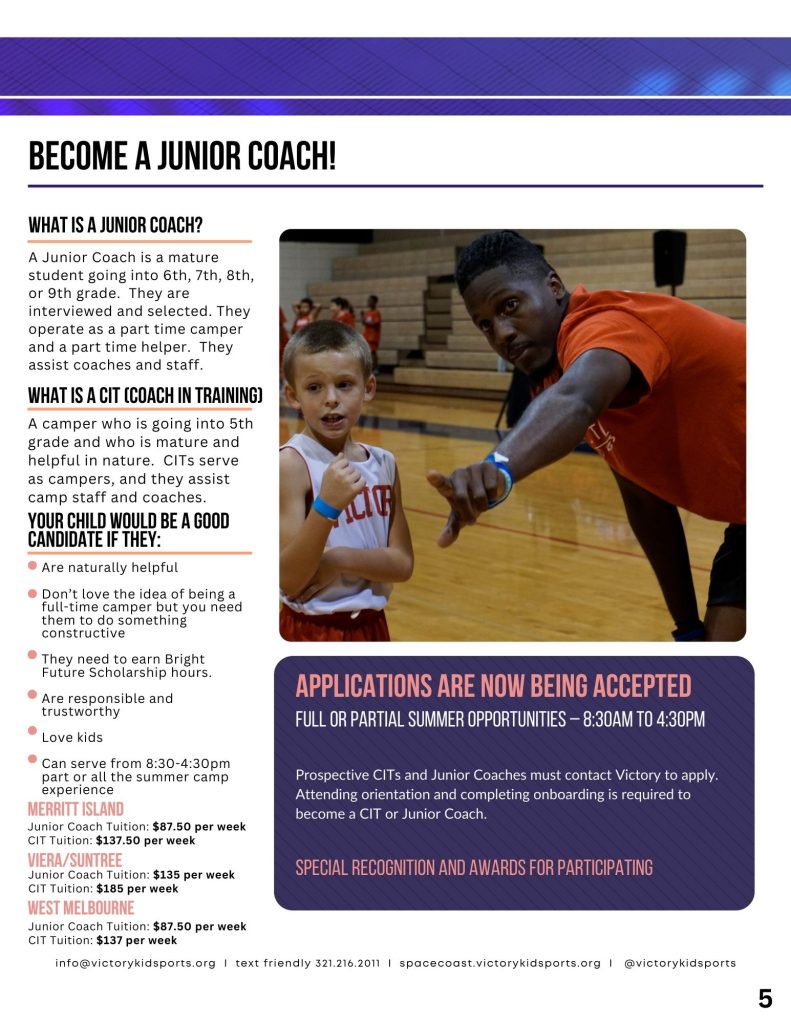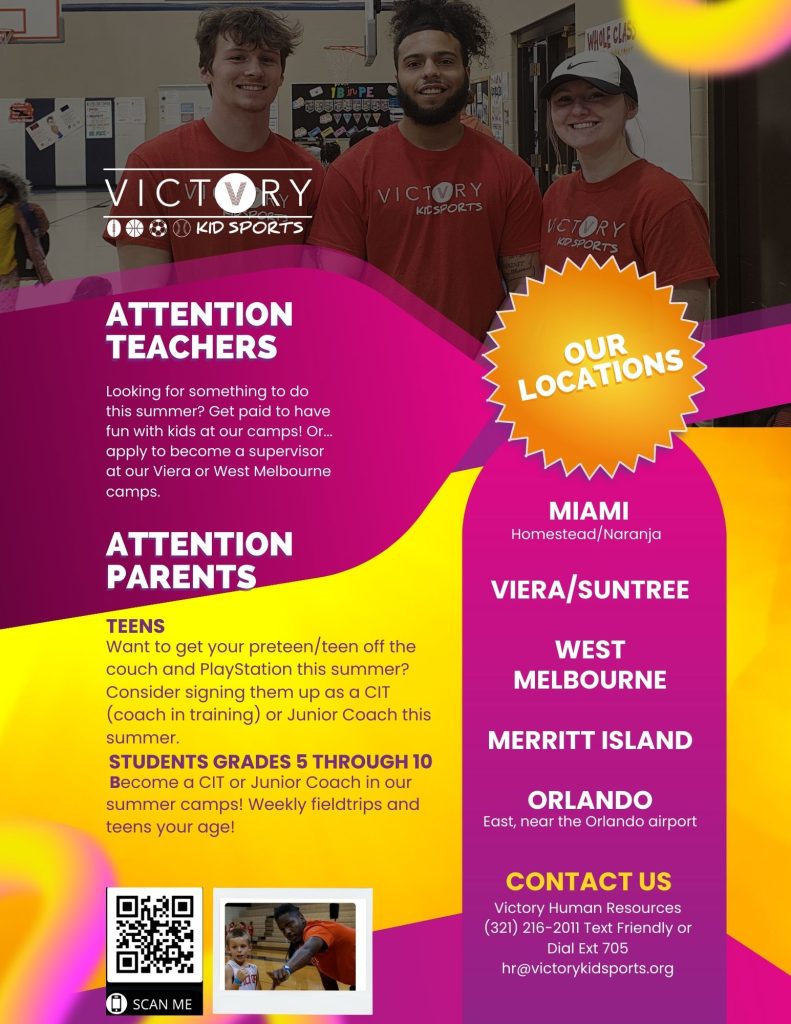 Become a Coach Or Supervisor at a Camp Victory Site
Join the Victory Team and become a coach, a lead, a supervisor, or a junior coach this summer. Click here to apply for a position. You can also go to https://victorykidsports.isolvedhire.com/jobs/.
We have full time, part time, seasonal, internship, and volunteer opportunities.
Meet Your Camp Victory Leadership Team
Ms. Cheryl Laraway (Bling) - Merritt Island Campus Director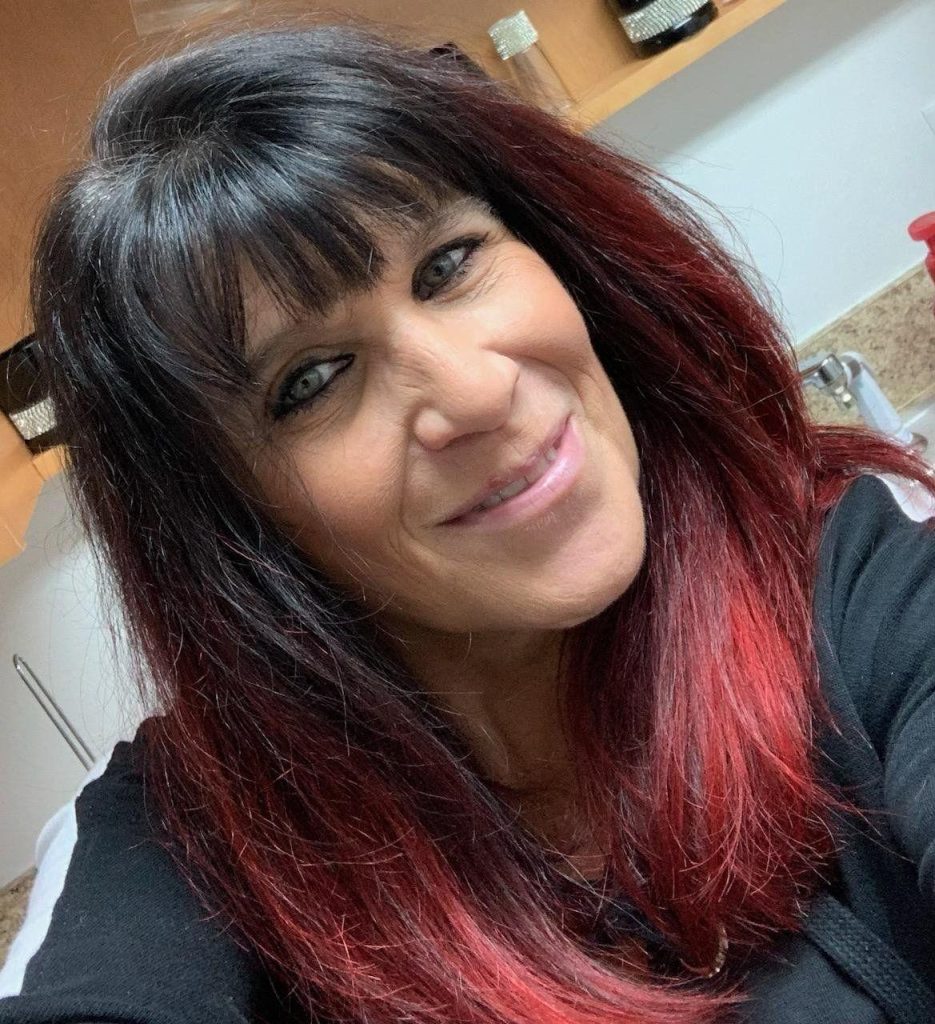 Hi my name is Cheryl Laraway, I grew up in Western Massachusetts. I have four children and I am a grandmother and great grandmother.  When my first child was old enough to attend preschool, he attended a Headstart program. I started attending parent meetings and found myself hanging out in the classroom. As time went on I started filling in as a sub in the classroom. I ended up going back to school and landed a full-time position as a teacher with Headstart. After my children were grown, I moved to Illinois and took a position at a KinderCare.
In 2005 I moved to Florida and continued to work for KinderCare as a teacher in the three-year-old classroom. After about two years I took a position with the Early Learning Coalition of Flagler and Volusia County. I wore many different hats there as the company transitioned. I started as an infant/toddler specialist and then moved into the position of an assessor. I assessed early childhood centers and homes using the Iters and Ecers tool.  I also mentored programs to help improve their quality of care.  Six years later I found myself back at KinderCare as an assistant director and later became a director for the company. After eleven years I felt I was ready for a change. I came to Victory Academy with an open mind and have loved every moment.
Camp Victory Highlight Video
FLORIDA BOARD OF DIRECTORS